Energy Saving Solutions for Your Investment
As a homeowner, builder or architect, why should you choose a spray foam insulation like our open cell Icynene® or closed cell InsulStar® over conventional fiberglass or cellulose insulation for your home or commercial building?
First and foremost is
ENERGY SAVINGS
. As a certified
Air Barrier Association of America
contractor, Investment Energy Solutions, Inc. will help you find the right energy solution for your biggest investment and meet the certifications of
LEED
,
Earthcraft
and
Energy Star
.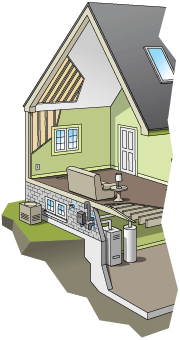 The best way to control air leakage and heat transfer is with an air barrier that expands conforming to the shape of the structure to create a complete seal. Icynene® is a soft,
open cell foam insulation
which is sprayed into walls, floors and ceilings as a liquid expanding to 100 times its initial volume creating an environmentally-friendly and superior air barrier. Energy costs are reduced by up to 50%, plus you get a quieter interior and a
healthier home
by preventing allergens, dust and mold spores from entering.
For a complete
air and moisture vapor barrier
, we use
closed cell spray-in-place insulation
like InsulStar®, which is formulated to inhibit mold, mildew and bacterial growth. It can be used in unvented attics and crawl spaces to turn unusable areas into usable living space. For flat and low sloped roofing solutions, our
foam roofing systems
can be used to seal the exterior with a durable, waterproof surface that can withstand foot traffic and lower roof surface temperatures by 15-30%, decreasing the amount of heat transferred into the building's interior.
Call 540.382.0602 today for a FREE consultation and estimate.
or email us at
info@investmentenergysolutionsinc.com