Resources for Home Sellers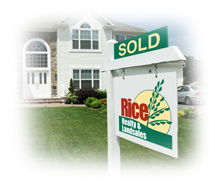 To sell your home quickly and for the best price, you can use these resources as a guide, but for the best service contact us today at (540) 381-2367.

The graph to the left shows average listing prices for homes in Blacksburg and Christiansburg over the past year, and the inventory levels. To get an approximate home value based on location use the home valuator to the right. If you're searching for a home outside the New River Valley, try the nationwide search to the right.



Home Selling Tips

When youíre selling your home, the price you set is a critical factor in the return youíll receive. Thatís why you need a professional evaluation from an experienced Realtorģ. Rice Realty can provide you with an honest assessment of your home, based on several factors, including market conditions, condition of your home, repairs or improvements, and selling timeframe.

Here are some ideas for increasing your homeís appeal in order to sell it quickly at the best price. Clean everything. Buyers expect a spotless house, inside and out, so clean everything, especially your windows and window sills.

Cut the clutter. People are turned off by rooms that look and feel cluttered. Remember, potential buyers are buying your house, not your furniture, so help them picture themselves and their possessions in your home by making your rooms feel large, light, neutral, and airy. Consider renting a storage unit to eliminate clutter in your garage and attic. Closets are an important consideration to many buyers. By storing clothing you wonít use soon, youíll make closets look more spacious.

A new coat of paint cleans up your living space and makes it look bright and new. To make rooms look larger, choose light, neutral colors that will appeal to the most people possible, such as beige or white.

Check the carpet's condition. If itís worn, consider replacing it. Itís an easy and affordable way to help sell your home faster. Again, light, neutral colors, such as beige, are best.

Itís best to avoid making major renovations just to sell the house since youíre unlikely to recoup those costs in your selling price. Make minor repairs to items such as leaky faucets, slow drains, torn screens, damaged gutters, loose doorknobs, and broken windows.

Grab peopleís attention by enhancing your yard and landscaping. If your house looks inviting and well-maintained from the street, people will imagine that itís attractive on the inside, too.
---
Nationwide Home Search